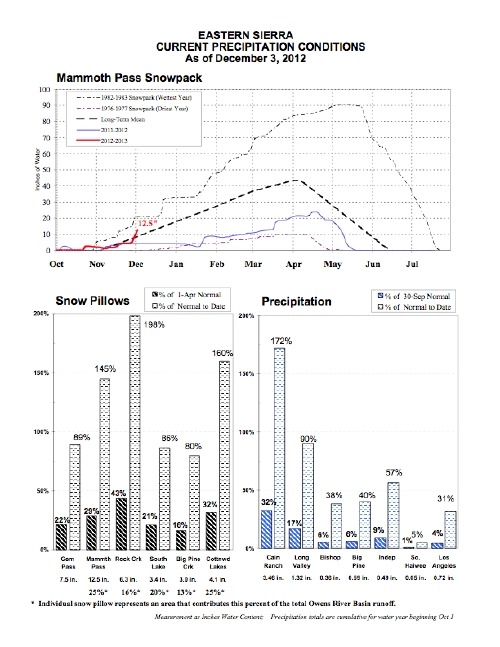 In terms of snow and water content, the Eastern Sierra snowpack has started to climb its way above last year's dismal levels. The peak usually takes place in April, but for right now the Los Angeles Department of Water and Power website snowpack graphs look better.
The snow on Mammoth Pass tells the story. Right now, it sits at 12.5 inches of water. Last year at this time, the snowpack looked more like 4 or 5 inches of water content.
LADWP keeps what they call snow pillows in individual mountain sites throughout Inyo-Mono. They measure snowfall. In terms of percent of normal for this time of year, Mammoth Pass sits at 145%. Rock Creek, 198%. South Lake, 85%. Big Pine Creek, 80% Cottonwood Lakes, 160%.
Precipitation measurements that LADWP calculates from several sites show Lee Vining at 172% of normal for this time of year. Long Valley, 90%. Bishop, 38%. Big Pine, 40%, Independence, 57%. Los Angeles, 31%. Again, that's precipitation.
So, it's definitely not the final story for the year, but the precipitation – both frozen and liquid – have fallen in greater amounts than last year. It's enough to keep the recreation engine churning, but environmental benefits will come clear later.
Check out LADWP's graph.  Type in Eastern Sierra Precipitation Conditions in the search box.  Then click on Los Angeles Aqueduct Condition Reports.
https://www.ladwp.com/ladwp/faces/wcnav_externalId/a-w-laa-cond-rprt?_adf.ctrl-state=1dud0gky71_63&_afrLoop=1012348396996000