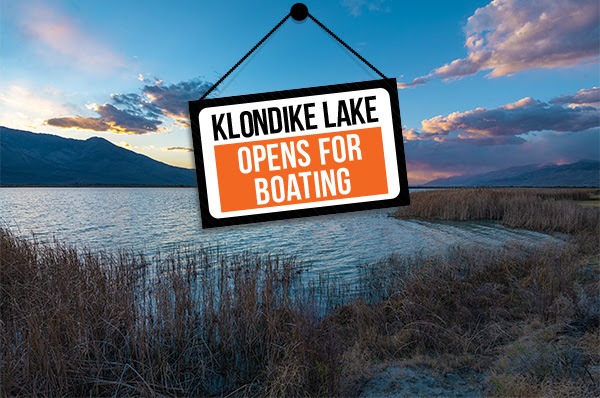 RECREATION UPDATES
>Klondike Lake Opens for Boating Starting June 30
Precautions are still being taken to guard against invasive mussels at this site, so all motorized watercraft will be inspected before being launched. Recreational users with smaller, non-motorized watercraft that are not transported with a trailer can access the lake at any time.
We will post to ladwpeasternsierra.com and distribute further information next week on the gate entrance times, hours of operation, and seasonal fees.
As of June 23, 2023 Closures and Restrictions Due to Flooding and Road Damage:
PLEASANT VALLEY
CLOSED Pleasant Valley Campground
ROAD CLOSURES
Pleasant Valley Rd. will not affect access to the Pleasant Valley Pit Campground
Pleasant Valley Patrol Rd. is CLOSED to vehicles
OWENS RIVER GORGE
CLOSED June 6 until June 25
ROUND VALLEY
ROAD CLOSURES
Boundary Rd. and County Rd.
SAD/HAPPY BOULDER AREA
NO PARKING on LADWP land in the area due to ongoing construction
Foot traffic is allowed on LADWP land to access the boulders
ROAD CLOSURES
Chalk Bluff Rd.
BISHOP
ROAD CLOSURES
Owens River Rd. between Line Street and Warm Springs Rd – the closure will isolate the area Known as "The Ropes and High Banks"
Owens River Rd. between Warm Springs Rd and Collins Rd.
BIG PINE
ROAD CLOSURES
Big Pine Canal Rd. at the crossing of Big Pine Creek bypass
TINEMAHA DAM & RESERVOIR
NO PUBLIC ACCESS due to active construction
There may be other land management agencies that have closed roads/areas.
Please visit the following agency websites for more information:
BE GOOD STEWARDS
Below are helpful links to responsible recreation programs.