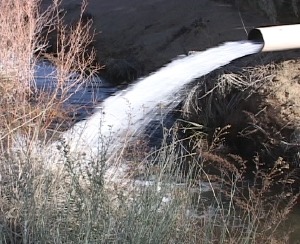 In this dry year, the Los Angeles Department of Water and Power plans to pump in the "high 70,000 acre-feet range" in the Owens Valley, according to a letter sent to the Inyo Water Director from the DWP Manager of the Aqueduct, James Yannotta.
The letter also says that if the Inyo-Los Angeles Standing Committee agrees to reduce pumping for irrigation in the Laws and Independence areas, annual groundwater pumping would go more toward the "low 70,000 acre-feet range." This plan is for the next six months. LADWP says they expect to pump between 44,160 and 54,660 acre-feet during the first six months of the runoff year. Another plan would come out October 20th for the rest of the year. Last runoff year, DWP pumped 88,681 acre feet.
In its 2013-2014 Operations Plan, DWP says their plan is consistent with the "management strategy of the Inyo-LA Water Agreement." The document says the overall goal of the Water Agreement is environmental protections and a reliable water supply, which are the basis of the current operations plans. DWP calls their operations "conservative, responsible and environmentally sustainable." The Inyo Water Department is currently analyzing the plan.
DWP says their plan will not "mine" any well fields, according to the well management section of the Long Term Water Agreement. Both Inyo and LADWP have agreed that section is ineffective. They have been working on a new pump management plan for nearly seven years.
The Operations Plan for six months says DWP will pump 5,760 to 7,200 acre feet in Laws, depending on water needs and environmental conditions. DWP wants to reduce pumping for irrigation by around 5,800 acre feet.
In the Bishop well field, the Hillside Decree limits DWP's groundwater extraction to that used on City-owned lands in the Bishop area. Planned pumping is 9,000 acre feet.
In Big Pine, DWP plans to pump between 11,500 and 12,900 acre feet. In the Taboose-Aberdeen well field, the pumping is planned for 4,200 to 7,380 acre feet. The Thibaut-Sawmill well field shows 6,800 acre feet. Independence- Oak Well field would be pumped around 5,300 acre feet. DWP has asked for a temporary 20% reduction in pumping for irrigation in Independence. Symmes-Shepherd well field, 3,100 acre feet. Bairs-Georges well field, 1,320 acre feet. The Lone Pine well field, 560 acre feet.
DWP also plans to provide around 198,800 acre feet for in-valley uses like irrigation, stockwater, recreation and wildlife projects. Water for the Owens Dry Lake dust control could go as high as 95,000 acre-feet.
A total of 69,000 acre feet will be exported from Inyo and Mono Counties, DWP says, during the 2013-14 runoff year. The Inyo Water Commission will meet Thursday at 6pm at the Big Pine Library to talk about DWP's Operations Plan.