To put its own spin on groundwater pumping this year, the Los Angeles Department of Water and Power issued a publicity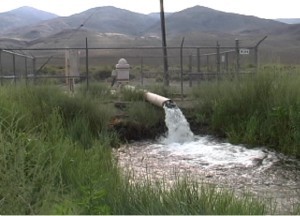 press release Friday that paints a picture of good deeds by DWP. The City wants to pump 22,500 acre feet more than Inyo County feels is best for the Owens Valley environment. Inyo officials looked to the huge water year and asked DWP to let the groundwater and the plants recover from earlier years of hard pumping. LA is unsympathetic.
At a recent meeting, DWP Manager Gene Coufal scolded Inyo County for failure to "respect the water agreement." That's the document that Inyo says DWP has violated at least a dozen times. For many years, DWP has refused to improve the pumping management techniques in the agreement which both sides publicly admit have failed to protect the Owens Valley.
DWP claims what they want to pump adds up to less than water that will be used for livestock and mitigation. What DWP does not say in its press release is that in some places water tables remain low and vegetation dry or dead. Ranchers report stock water has been cut and irrigation water reduced.
DWP takes credit for what the City is legally forced to do – provide water for lessees, for the Lower Owens River, and for Owens Dry Lake dust mitigation. DWP admits damage done to the Owens Valley by describing it as "past and present impacts of Los Angeles exercising its water rights."
DWP Director of Water Operations, Martin Adams, denied a statement in an earlier Sierra Wave story. Our story said some observers of Manager Gene Coufal said it seemed he spouted the LA party line on water of "get all you can get." Martin said, "That simply is not true." Then he said LA wants half of what it could take. What Martin did not say is that the numbers games leave out the environmental realities of the Owens Valley.
Inyo Water Director Bob Harrington had earlier said his department's work suggests pumping of the Owens Valley should not go beyond 70,000 acre feet per year. Adams said DWP could take 197,000 acre feet. Adams denied that DWP operates outside of the water agreement. He paints a picture of healthy plants and high groundwater tables in Inyo in contrast to the County's data.
DWP's press release also, once and for all, reveals LA has no intention of using the logical approach of the depth of water tables to manage pumping. The press release leaves out the fact that the City of Los Angeles will get 71% of its total water use from right here in the Eastern Sierra.