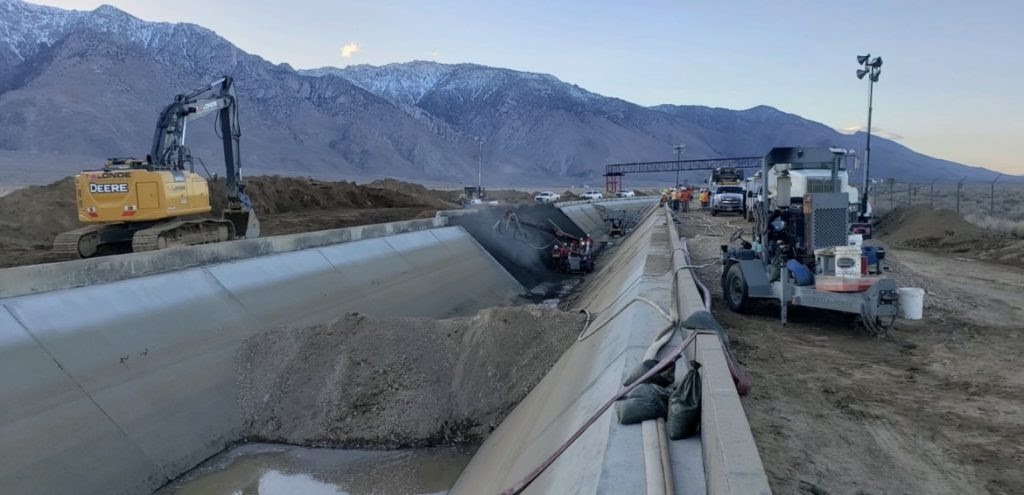 The Aqueduct breach was located in the lined uncovered concrete section where seven panels were damaged.
Bishop, CA (March 15, 2023) – As of today, LADWP crews have completed repairing an uncovered concrete section of the Los Angeles Aqueduct (LAA) that was damaged during the major winter storm that hit the Eastern Sierra last week, returning the aqueduct to service. Returning the LAA to service has allowed crews to stop diverting water through the Alabama and Cottonwood Spill gates that was temporarily required during repairs.
The breach, which occurred late evening of March 10, north of the Haiwee Complex approximately two miles south of the town of Olancha, was the first of its kind and took the expertise of about 75 LADWP personnel to make repairs. Their work included removing spoils, backfilling and placing shotcrete as a means to protect the channel against erosion.
"It took our full Aqueduct team to complete this historic repair. It was a great accomplishment by our crews, under the leadership of Joe Bowling, Independence Construction and Maintenance Supervisor and Ben Butler Senior Hydrographer Aqueduct and Reservoir Keeper supervisor – managing that many boots on the ground in a short amount of time with unfavorable conditions is no easy task," said Adam Perez, LADWP Aqueduct Manager.
With another storm expected to hit the region early next week, LADWP staff will return to completing damage assessments, water diversions, continued clean-up and preparation for the high runoff.
The public is strongly encouraged to adhere to any road and area closures that suffered damage and could be vulnerable to rockslides, sink holes and other hazardous conditions.
Public updates will continue to be posted through LADWP in the Eastern Sierra communications. Please visit ladwpeasternsierra.com to subscribe.
View March, 13 2023 LADWP Aqueduct Division storm update