Under pressure from citizens, staff at the LA Department of Water and Power has come up with a plan to possibly allow motorboats back on Klondike Lake.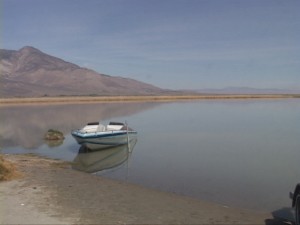 Klondike Lake, near Big Pine, is one of the few lakes in the Eastern Sierra where people can water ski or ride jet skis. The lake also empties straight into the LA Aqueduct. Amid concerns that the rapidly reproducing quagga mussel might be introduced into the water system, the Department decided to close the lake to all motorized boats.
With the loss of a popular recreation area, a group called the Save Klondike Citizens Committee pressured the Department and the Inyo Supervisors to come up with a plan to keep the lake open to motorboats.
On Friday, Clarence Martin with the Department of Water and Power announced that a plan to allow motorized craft back on the lake would begin for a set trial period.
Between May 23 and June 13, pre-inspected boats would be allowed on Klondike Lake on Saturdays from 11:00 am to 6:00 pm.
People who want to have their boat inspected to use at Klondike can bring the vessel to the DWP office at 300 Mandich Street in Bishop, Monday through Friday between 8:00 am and 3:00 pm by appointment. The inspection will cost $10, and the first time a person gets their boat inspected, they will have to watch a 26 minute video about quagga mussels. Inspection tags from Crowley Lake or Diaz Lake will not be accepted at Klondike, according to DWP officials.
After the four Saturdays of the trial period, staff plans to reassess motorized vessel use at Klondike.