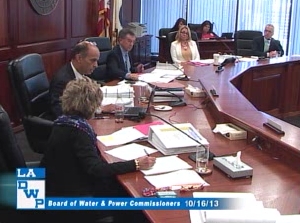 While Department of Water and Power officials gripe about having to spend money to clean up the Owens Dry Lake and other projects here, they are under the gun of their own Commission to account for spending $40 million through two trusts for reasons unknown.
At a meeting earlier this month, DWP Commissioners demanded an accounting of expenditures in two private trusts. The Joint Training Institute and the Joint Safety Institute spend more than $3 million of DWP ratepayers' money every year, but it's not clear on what. LA news media recently jumped on this issue. So did the LA City Controller and now DWP Commissioners. DWP management and employee union representatives are involved in these two trusts.
At last week's DWP Commission meeting, DWP Genral Manager Ron Nichols said that the Trust Board agreed to hire an outside CPA firm for an audit. He
also said the LA City Administrative Officer is undertaking efforts to evaluate the two organizations.
President of the Water and Power Commission, Mel Levine, said, "We expect to know how this money is spent and we expect everything to be made public." Levine said the people of LA deserve to know how the money is being spent. He said the Commission wants information on all payments of $5,000 or more and copies of checkbooks.
Nichols said the two trusts have conducted audits every year. Levine asked if they were made public. Nichols said not to his knowledge. Both the City of LA and DWP Commissioners have a big problem with the lack of transparency in the two organizations and the fact that they have spent $40 million of ratepayers' money in thirteen years.
Commissioner Jill Banks Barad said the Commission wants to know exactly what these trusts do. She said, "$40 million may be just a blip in the budget of DWP, but it's the perception. It's ratepayer funds, and it's a public relations disaster."
Levine made a motion for all information requested by the November 19th commission meeting. A unanimous vote approved the demand.