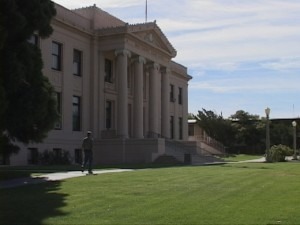 Inyo and Mono Supervisors meet Tuesday.  They expected to deal with planning issues, water issues and a letter to the Los Angeles Department of Water and Power.
The Inyo Board planned to dive into a Forest Service issue. The Inyo Planning Department has asked the Board to conduct a workshop on the upcoming Inyo National Forest Plan Update and Revision.  With new directions from Washington, Forests throughout the nation will update their plans.  The Inyo National Forest will be one of the first. The Inyo Board will talk about the County's involvement in the process of the update. This item was scheduled to start at 10am.
On the agenda for 11:30am, The Water Department planned to ask the Board for direction on how to proceed to a final Lower Owens River Recreational Use Plan.  This plan discusses the possibility of walking trails, picnic areas, signage and other recreational items along the corridor of the re-watered Lower Owens River.
Meanwhile, in Mono County, the Board of Supervisors was expected to approve a proposed letter to go to the LADWP to oppose LA's lawsuit against Mammoth Community Water District in which LA alleges Mammoth has no rights to its main water source, Mammoth Creek.
The draft letter to LA's Mayor, City Council and DWP Commissioners says the claims made in the lawsuits "affect the County's largest population base and could have devastating impacts on its most significant economy.  For the reasons addressed below, the Board of Supervisors finds that these lawsuits were ill-conceived and lack merit, and respectfully requests that you reconsider your actions."
The letter points out that since the late 1940s, Mammoth has developed based on water rights issued by the state authorizing the diversion of 2,760 acre feet per year or less than 1% of all of LADWP's export from the Eastern Sierra.
The letter goes on to say that "LADWP, after not commenting for 60 years, chose to use the public comment process on the Fishery Bypass Flow EIR to officially question, for the very first time, the validity of the community's existing and long-standing water rights."  The letter calls DWP's assertion "irresponsible."  The letter says, "After sitting back and watching the community and its economy evolve over the last 60 years, LADWP cannot now say it should have never happened." The Mammoth Town Council had also agreed to send a similar letter to LA officials.
The Mono Board will meet Tuesday night at 6pm at the Paradise Fire Station on issues involving the Rock Creek Canyon Specific Plan and a controversy over a no-parking zone along Lower Rock Creek Rd. in the RockCreek Canyon plan.