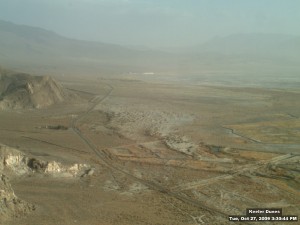 GREAT BASIN AIR POLLUTION CONTROL DISTRICT AND THE LOS ANGELES DEPARTMENT OF WATER AND POWER REACH AGREEMENT TO SAFEGUARD NATIVE AMERICAN CULTURAL RESOURCES, REDUCE DUST FROM THE KEELER DUNES, AND IMPLEMENT NEW WATER-SAVING DUST CONTROL MEASURES  (Press Release)
[Los Angeles, CA and Bridgeport, CA, June 27, 2013] — The Los Angeles Department of Water and Power (LADWP) and the Great Basin Unified Air Pollution Control District (Great Basin) today announced that the two agencies have reached a major agreement regarding future dust control on portions of Owens Lake, preservation of historic Native American artifacts and use of new water-saving dust control areas. The agreement includes the following:
• The creation of a Cultural Resource Task Force, which will include Local Tribal representatives, to evaluate how required dust pollution mitigation efforts can be managed in a way that best protects Native American cultural resources. To allow the Cultural Resource Task Force time to complete its work, Great Basin has agreed not to enforce penalties against LADWP for project delays that are the result of efforts to safeguard these important resources.
• The recognition by Great Basin and LADWP that future dust control orders will give due consideration to the shared goals of controlling air pollution and decreasing the use of water at Owens Lake. To help accomplish these mutual goals, Great Basin has agreed to approve two water-saving dust control methods: Reduced Thickness Gravel and Brine Shallow Flooding and to establish an expedited framework for evaluation of potential future other water- saving methods.
• A plan for reducing dust from the Keeler Dunes, which impacts the residents of Keeler, including LADWP employees. LADWP will make a single payment of $10 million as a public benefit contribution to Great Basin for the air district to undertake designing, implementing and maintaining a dust control project at the Keeler Dunes.
"This agreement expedites the control of health-impacting air pollution from the Keeler Dunes while acknowledging the importance of saving fresh water and protecting cultural resources," said Great Basin Air Pollution Control Officer Ted Schade. "It also shows that Great Basin and LADWP can work together to acknowledge and balance each other's needs."
"We believe that today's agreement represents a first step toward resolving more of the outstanding issues we face as we attempt to safeguard scarce water supplies while protecting air quality in the Owens Valley," said LADWP General Manager Ron Nichols. "I especially want to thank the key parties who made this agreement possible, including Inyo County Supervisors Linda Arcularius and Matt Kingsley, Mono County Supervisor Larry Johnston, and Los Angeles Board of Water and Power Commissioners Richard Moss and Jonathan Parfrey, whose tireless work over the past two months made this significant agreement possible."