The Los Angeles Department of Water and Power was supposed to have cleaned up 3.1 square miles of the dusty Owens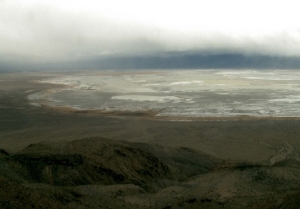 Dry Lake bed by October of 2010. Their delays went on, but now the Air Pollution Control District and DWP have reached an agreement.
DWP will have to clean up the 3.1 square miles by the end of 2013 and also pay the APCD $6.5 million for local clean air projects. A DWP press release says the cash will "offset any potential excess dust emissions resulting from the delay."
The pollution control measures enforced on LADWP over the last ten years have reduced blowing dust from the original health hazard, but pollution continues until DWP finishes the work. The utility had dragged its feet, asking for delays to be able to use a questionable clean-up method called moat and row – basically rows of dirt. The State Lands Commission, which owns the lake bed, rejected moat and row. Since then DWP has been negotiating with APCD Director Ted Schade, who said he was prepared to fine DWP for failing to carry out a dust abatement order.
The Owens Dry Lake dust was named the worst pollution source of its kind in the Western Hemisphere before the State and APCD lowered the hammer of regulation and a court upheld their enforcement. DWP's press release says that since the late 1990s, LADWP has mitigated 40 square miles of dust on the lakebed at a cost of nearly $1 billion. Decades ago, the City of Los Angeles diverted all of the water that used to flow into the lake, leaving it to dry up and blow in the wind.
Director Schade confirmed that the mitigation to date has meant "dust storms blowing off the lakebed have been dramatically reduced." The deal signed by DWP and the APCD gives LA until December 31, 2013 to complete mitigation of the 3.1 square miles, requires DWP to pay $6.5 million for a joint implementation project for clean air projects, and DWP will be permitted to "transition" three square miles of existing shallow flooding to a hybrid of managed vegetation of some shallow flooding and gravel cover. The water saved will be moved to the new 3.1 square miles to be controlled. The new project will cost something like $110 million.
DWP's press release includes comments of praise for the deal and for DWP from Supervisor Linda Arcularius and Mike Prather of the Eastern Sierra Audubon Society. Mention is also made of an Owens Lake planning group that includes 60 local, state and federal agencies along with LADWP to develop a master plan for the future of the Owens Dry Lake.