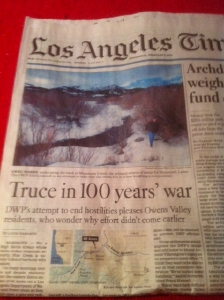 As local environmental groups stew over what some call the Department of Water and Power's manipulative negotiations on the Owens Dry Lake and Inyo County still can't get LA to admit that groundwater levels relate to environmental damage, the Los Angeles Times reported Wednesday that LA, in search of peace, has resolved three other disputes – rights to Mammoth Creek water, Rush Creek water, and water for the community of 40 acres at Pine Creek.
The story says that Mammoth Community Water District will compromise with LADWP on LA's legal attacks on Mammoth Creek water rights. The Times story says, "In return for less than $5 million, Los Angeles would drop its lawsuit and both sides would agree to never challenge each other's water rights."
The story says DWP would use the money for "water-saving improvements designed to increase the flow of water in the aqueduct." So add $5 million to the Water District's $600,000 in legal bills and the community of Mammoth ends up with more millions to pay.
In the Mono Basin, the Times says, LADWP will build a $12 million adjustable gate to help water flow down Rush Creek. In Pine Creek and the community of 40 acres, DWP has finally agreed to give the area the water it needs and more in emergencies.
The LA Times story brings up the possibility that DWP wants a shinier image as the centennial of the aqueduct approaches this November and with it lots of media attention. Asked if this were their motivation for resolution of issues in Mammoth, the Mono Basin and 40 acres, DWP General Manager Ron Nichols is quoted as saying, "It's serendipity. The important thing is to show that the DWP will work with reasonable people to find solutions that work for both sides."
Maybe in small situations, but so far the enormous water issues in the Owens Valley and Owens Dry Lake remain pinned under LA's heel.