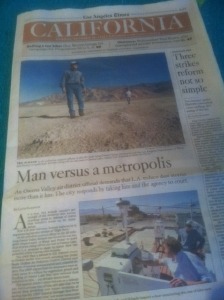 The Los Angeles Times focused on one man in the Owens Valley in the Sunday edition. Reporter Louis Sahagun compared Air Pollution Control District Director Ted Schade to Gary Cooper in the classic film, "High Noon." Schade's battle, not with old west villains, but with the Los Angeles Department of Water and Power.
The article ran on the front page of the California section and tells how Schade has enforced air quality laws and signed agreements to clean up the Owens Dry Lake dust and now, how LADWP has gone after Schade. The story reports on LA's new federal lawsuit against the EPA, California Air Board, State Lands Commission, BLM and APCD. The Times points out that the lawsuit does not name Ted Schade personally but that DWP has gone after him with accusations of unfair regulation. They want him out of the picture.
The article says "The attacks have left Schade in a position he didn't expect – abandoned by many Owens Valley community leaders and environmental activists." The reporter explains the lack of public support when he writes that "In a place where LA owns most of the land and water and has a grip on the region's economic stability, few people were willing to comment about the man whose career is on the line."
Mono County Supervisors Larry Johnston did offer support to Schade. Johnston is chairman of the local air board. The Times said Johnston described Schade as "our guy." Owens Valley Committee Director Mark Bagley said, "Ted has a reputation for being a straight shooter." And, a surprising voice of support also came from David Freeman, a luminary in the water and political world who worked as DWP General Manager in 1997 when the dry lake deal was signed.
Times reporter Sahagun quoted Freeman as saying that Schade is just a bureaucrat enforcing the law. Freeman was also quoted as saying, "Ever heard of a polluter who didn't claim a regulator was biased?"
The Times article goes on to describe the dispute over the dry lake – Schade's position that he is enforcing the law and DWP's gripes about the cost and the extent.
Check out the link to the LA Times story  – http://www.latimes.com/news/local/la-me-owens-dust-20121028,0,6699539.story.