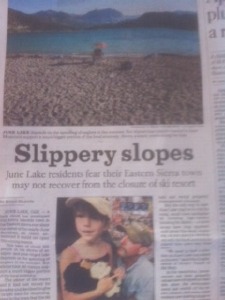 A Los Angeles Times reporter made the trip to June Lake where business owners were quoted as saying they don't think many will make the trip come winter with June Mountain closed. The Times quoted Don Morton, manager of June Lake Accommodations as saying, "If the mountain closes we are dead."
Mammoth Mountain CEO Rusty Gregory made the clear announcement that the company did close June Mountain because of annual $1.5 million losses. The Times' June Lake story, called "Slippery Slopes", revealed a not surprising picture. The story quotes June Lake people as saying that their property values have dropped at least 10% since the announcement and that some hotel workers are planning to leave town in November.
The story says, "June Lake is a throwback to ski towns of a quieter era." Rusty Gregory is quoted as saying that June Mountain has lost "$500,000 to $2.5 million annually since Mammoth bought it in 1986." Gregory told the Times that June Mountain must bring in about 150,000 skiers per year to make money. The numbers have flagged around 45,000.
The need for more lodging rooms came up and so did the failed Rodeo Grounds 900-unit condominium project. Intrawest gave up on the project in the midst of community dissent and a failing economy.
The Times' story reveals the town's suffering and points to no answers for this winter. Locally, talks continue over possible solutions. See LA Times story:  http://www.latimes.com/business/la-fi-june-lake-20120725,0,3265113.story