The plight of little Owens Valley towns hit the Los Angeles Times over the week-end. Reporter Louis Sahagun wrote, "The Los Angeles Department of Water and Power is quietly prospecting once again for land and water rights in the Owens Valley, sparking tense disputes among residents over the agency's influence on their economic stability."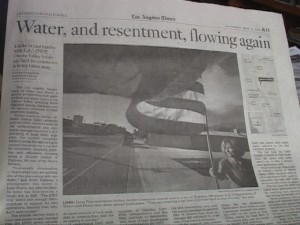 Sahagun had heard from Lone Pine resident Scott Palamar, vocal about DWP's moves to buy 100 acres on Oak Creek, owned by Allen and Robert Bell. Palamar said DWP is sucking away the chance at sustainable communities with their policies.
The LA Times article quotes DWP General Manager David Nahai as saying, "I understand their sentiments and I'm open to having conversations" about releasing property.
The Water Agreement required LADWP to release 75 acres around Inyo towns. That was 12 years ago, and the land remains in LA ownership. Nahai also told the Times that DWP is "right now reappraising the 75 acres with a goal of bringing them to market soon in a successful auction."
The Times reported that DWP has also expressed interest in acquiring the 80-acre site with water rights in Big Pine that used to house the Big Pine Care Center, which was recently demolished.
One more thing. The article spoke of Mr. Nahai's visit to the Owens Valley in April when he met with local ranchers. The LA Times quoted Nahai as saying that he "talked with them about our dire water situation." The article falls short of saying DWP will take some of the ranchers' allotments.
Locally, neither DWP nor the Inyo Water Department said they knew anything about a cut in ranch water. The fact that the topic was brought up in the same conversation with DWP's skimpy water supply makes locals suspicious.
Inyo Supervisor Marty Fortney was quoted as saying it's tough to force DWP into anything. The Times quoted the Supervisor as saying, "In this country, the DWP is God, and it makes the rules."
Jennifer Castenada, local real estate agent, pictured in the article, said, "If people don't speak up, there won't be any businesses or livelihoods left to fight for