By Rob Gill
After ten intense weeks the 2015 Mammoth Indoor Soccer League concluded its action this past Sunday in the Mammoth High School Gymnasium. The league began with eight co-ed teams vying for the championship with the top four contenders advancing to last Sunday's Semi Final matches.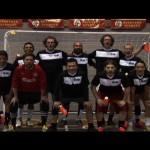 The first game of the evening had the number one ranked La Palmita facing off against their rivals La Palma.  Both of these teams play together under the La Palma name in the summer and bragging rights were on the line.  La Palma was able to pull off an upset 1-0 win thanks to a fantastic defensive effort.
The next match up featured two local businesses trying to advance to the finals. The Black Tie Skis and Z Pizza teams played an incredible game, which actually led to the first and only overtime match of the entire playoffs.  When it was all said and done Black Tie Skis, led by the scoring of Mammoth Lakes City Councilman, Colin Fernie, would move on to the finals. Beating Z Pizza in overtime 4-3.
After losing, Z Pizza had to stay on the court to play against La Palmita for third and fourth place. An obviously exhausted Z Pizza team just didn't have enough steam, and La Palmita won the game three goals to one.
The finals came down to Black Tie Skis and La Palma. La Palma came out firing, scoring four goals in the first half, while Black Tie was unable to get the ball in the net. Black Tie Ski's rallied in the second half but it just wasn't enough and they eventually lost the game 5-2 and took home the second place prize.
Congratulations to La Palma who played a fantastic night of soccer to become the 2015 Mammoth Indoor Soccer league Champions!