A group of artists from the Los Angeles area continues to bring their unique brand of community involvement to the Eastern Sierra.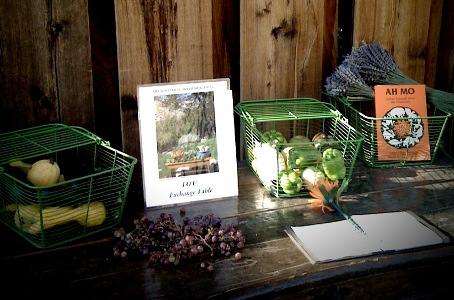 The group is called the Metabolic Studio. Their goal is to create ties between the Owens Valley, where a portion of their drinking water comes from, and the LA area.
This past spring, the artists enlisted local residents to play a Wizard of Oz themed concert on wine glasses inside the old glass plant near the Owens Lake. Also as part of this IOU project, the artists gathered 5,000 gallons of rainwater from the roof of their studio in LA, and trucked the water to the Owens Valley, where they dumped it on the Owens Lake Bed.
For their latest plan, the artists have worked with local businesses and Lone Pine residents on a free vegetable exchange table.
Rochelle Fabb, with the Metabolic Studio, explained that the idea is to exchange vegetables grown in the community garden, called the" IOU Garden, for anything that people dont need. The studio and local business created the garden for a community feast in the fall, but in the meantime some of the veggies are getting ripe and being placed on a table outside the Espresso Parlor in Lone Pine, free to anyone who leaves something behind. So far, Fabb reports that people who have taken vegetables have left mostly books.
The fresh vegetable exchange table is located in the courtyard behind the Espresso Parlor in Lone Pine. The only instructions for how to use the table are take what you need and leave something in return.
The Metabolic Studio has other projects in store for the Owens Valley and Los Angeles. Well keep you posted.