Press release
Superintendent of Schools Dr. Lisa Fontana is pleased to announce that Kyle Schaniel from Seventh Day Adventist won first place at the 58th annual Inyo County Speech Contest, sponsored by Bishop Real Estate and held on April 11th at the Jill Kinmont Boothe School.
The second place winner was Laurel McElroy from Round Valley. The third place winner was Abbey Gabriel from Home Street Middle School.
Also representing their schools were: Willam Young, Amy Lee, Sarah Faircloth, Santana Rodriguez, Jacob Gilbert, Alexandra Morales, and Isabel Rodriguez.
Students from Big Pine, Home Street Middle School, Owens Valley, Round Valley, and Seventh Day Adventist participated in the event. The topic was: One scientist's work we should all understand. Students presented well researched subjects about marine biology, hydrology, radiology, bees, and many more fascinating topics. Audience members were impressed by the insightful and inspiring speeches from creative middle-schoolers striving to make our world a better place.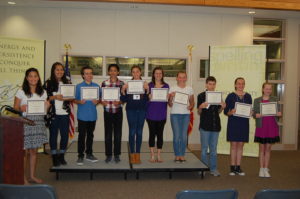 All speeches were evaluated on content and delivery by a panel of three community judges: Carrol Habmleton, Harold McDonald, and LeeAnn Rasmuson. Inyo county Superintendent of Schools thanks these judges for their time and expertise.
In addition, ICSOS would like to thank Jake Rasmuson of Bishop Real Estate for sponsoring the contest and providing the winners with trophies and cash prizes.
ICSOS would also like to express gratitude to the school coaches for their time, effort and support for our students. The coaches were Sunny Meza of Big Pine School, Mark DesRochers of Home Street Middle School, Vivian Hanson of Owens Valley School, Jennifer Morales of Round Valley School, and Sandy Burns for Seventh Day Adventist School.
Congratulations to all the participants!