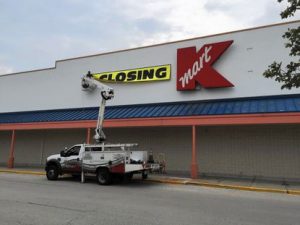 SAD BUT TRUE: KMART'S CLOSING
An article by USA Media posted on the Internet has confirmed the Bishop Kmart will be closing.
The Bishop site is one of 45 Kmarts being shut down by owner Transformco, along with 51 Sears stores. Transformco acquired both operations, pulling them back from the bankruptcy, a year ago, with funding from its owner ESL Investments and a third-party investor.
The article goes on to state the "Sears and Kmart corporate workforce is shrinking with about 250 layoffs." There's no count on the number of store personnel who will be losing their jobs.
According to Elaine Kabala, Bishop's city planner, Kmart owns the building it will shutter in a few months. Vons has the lease on the former Kmart building across from Schat's Roadhouse.