Afraid of a quagga mussel invasion, LADWP limited use of motorboats and jet skis at Klondike Lake to certain hours on Saturdays. Hundreds of citizens signed petitions to re-open the lake and now the issue will go to the Standing Committee of Inyo and LA July 9th.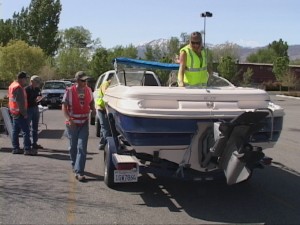 Citizens say they will push for more use of the lake and hope to make that case to the officials.
Meanwhile, DWP has announced a new boat inspection schedule for the week of the Fourth of July. DWP will inspect boats Monday through Thursday from 8am to 3pm at the LADWP office in Bishop. No boat inspections on Friday, July 3rd. You can schedule an inspection by calling 873-0409. The cost is $10 per vessel.
DWP will use the fees to help offset the cost of the program. Inspection tags from Crowley Lake and Diaz Lake will not be accepted at Klondike.
Pre-inspected vessels are allowed on Klondike Lake Saturdays from 11 am to 6 pm through July 11th. The lake shore will continue to be accessible to vehicles without trailers and foot traffic without restrictions. DWP will re-evaluate the program after that.