LADWP continues to consider solutions to increase motorized boat access to Klondike Lake. Last year the very limited access created a major public controversy.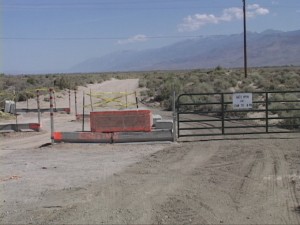 DWP's main concern at Klondike Lake is to keep the invasive and pipe clogging quagga mussel out of the aqueduct. Since the quagga was first found in California two years ago, DWP has required boat inspections at Crowley Lake and Klondike. Crowley Lake is staffed full time in the summer at the Crowley Lake Fish Camp, but Klondike doesnt have a concessionaire.
Last year, DWP opened Klondike to boating one day a week and expanded that to three days a week in July of 2009. DWP started a survey to help staff come up with a new access plan. While there has been talk of access six days a week, nothing has been finalized. Other ideas include a season pass that would give a discount on inspections, changing access hours and days, and the possibility of providing an exit tag that would allow watercraft to be used on the lake again without re-inspection.DWP may also consider conducting boat inspections at the entrance to Klondike.
Chris Plakos with DWP says that staff is willing to consider all options, including a six day week plan, but with the surveys just recently turned in, no decisions have been made.