LADWP has extended the limited motorized vessel use at Klondike Lake through July 11, but there may be more to work out before this issue is resolved. At their meeting this week, the Inyo Supervisors decided to put a discussion of Klondike Lake on the agenda for the next Inyo-Los Angeles Standing Committee meeting in July.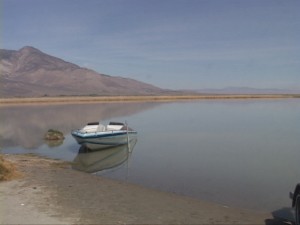 Fear of the quagga mussel, an aquatic pest known to wreak havoc in water systems, led LADWP staff to propose closing Klondike Lake to motorized boats rather than risk spreading boat-bound quaggas into the aqueduct. After local residents who enjoy water skiing on Klondike geared up in opposition to the boat ban, DWP staff decided to allow pre-inspected boats on the lake on Saturdays for a limited time. That time limit has now been extended until July 11th.
Motorized boat access has been restored on a limited basis, but there may be a legal issue as well.
In the Long Term Water Agreement, Klondike is identified as a mitigation/ enhancement measure to offset negative environmental impacts created from groundwater pumping by DWP. The idea was to keep wildlife habitat and recreation on Klondike. Two different environmental documents that have to do with Klondike list different descriptions of Klondike Lake. One does not specify recreation by motorized watercraft, another, a draft EIR from 1990 spells out water skiing as a specific use of Klondike.
With Officials from the City of Los Angeles, Department of Water and Power, along with water commissioners headed to Bishop for a standing committee meeting July 9th, the Inyo Supervisors decided that the issue of the legal documents should be discussed.