Last summer, boating enthusiasts and LADWP bumped heads over access to Klondike Lake north of Big Pine. This year, DWP wants Klondike users to fill out surveys to help them come up with an access plan. The surveys are due in by April 16th.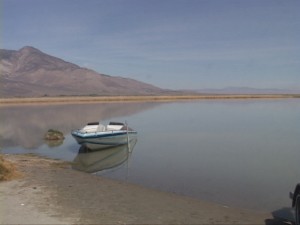 In a press release, DWP says the surveys are available at DWP's Bishop Office at 300 Mandich St. in Bishop, through email at [email protected] or by phone at 760-872-1104. Those interested can also click on the following link to print out a survey – http://www.ladwp.com/ladwp/cms/ladwp013222.pdf.
DWP officials say their main concern is to take steps to prevent the spread of quagga mussels, an invasive spescies known to cause major problems in fisheries and water supply operations. Last summer, DWP first opened Klondike one day perweek with requirements for boat inspections. In July, the Department expanded boating use to three days per week with special entrance control.
DWP officials said they and Klondike Lake Committe representatives met last December to "brainstorm ideas to allow more convenient boating access to Klondike Lake next summer." Officials said ideas discussed at that meeting include a season pass that would give a discount on inspections, changing access hours and days, and the possibility of providing an exit tag that would allow watercraft to be used on the lake again without re-inspection. DWP says they're also considering conducting boat inspections at the entrance to Klondike.