With the first-ever medical marijuana co-ops now open in Mammoth Lakes, citizens have come up with questions. One of them – what about quality control? Are pesticides and other chemicals used to grow the marijuana at the co-ops? Steve Klassen, owner of Green Mammoth, gave assurances.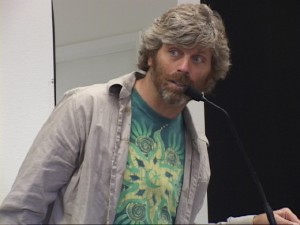 Klassen said that he has personally lived what he described as a very organic, health-minded life and that his co-op is an extension of his long-time philosoophy. He said that he has long term relationships with his three growers who are co-op member-providers. Klassen said the medical marijuana is 100% organically grown.
Klassen said he and his staff are now working on lists of nutrients used in the growing of their products so they can answer all questions.
As for actual testing of their products, that requires expensive equipment and a full-time chemist, according to Klassen. He said some of the products are being tested, and this, he said, will be a next step. Products, he added, are stored somewhere else, other than the co-op at 94 Laurel Mt. Road.
We have not yet heard from Robert Calvert of Mammoth Lakes Wellness about his medical marijuana products.