The company in escrow to buy Cottonwood Plaza in Bishop is Katz Kirkpatrick Properties in Roseville, CA. That fact became clear when the company put up a sign that leasing is underway.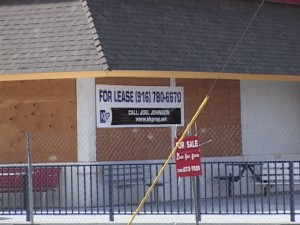 Joel Johnson, broker for KKP confirmed that officials of the company planned to travel to Bishop on Tuesday to meet with an architect and contractor. Johnson described KKP as a development company, specifically shopping centers. He said the principals of the company are Fred Katz and Steve Kirkpatrick. Johnson said the company operates its own in-house leasing and acquisition arm. He also said that this company is in no way associated with the previous parties involved in the plaza – Chuck Caldwell and Richard Maudsley. Johnson wanted to make it clear this is a brand new company and that tenants don't have to worry about a repeat of bad experiences.
It was Johnson was visited Bishop for Mule Days and saw the vacant center. From there, KKP and Lee Crosby, who owns the plaza, entered a sales agreement and escrow.
While a sale is not yet complete, the KKP website already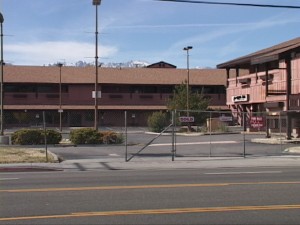 lists Cottonwood Plaza as a center with available leasing. Local real estate broker for Crosby and Cottonwood, Stan Smith, said he is also working on pre-leasing the plaza.
The website says that The Companys ability to attract high profile anchor tenants is an asset enjoyed by all occupants of their centers. KKP has developed shopping centers since 1978 and, according to Smith, specializes in rehabilitation of centers.