(Press Release)
PARENTS AND SUPPORTERS WORK TO KEEP INDEPENDENCE KIDS CLUB OPEN
On Tuesday evening at the Kids Club in Independence, a dozen local, concerned parents and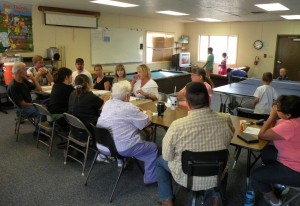 community members met with Healthy Communities of Southern Inyo County Board President Jaque Hickman and Vice-President Lis Mazzu to discuss fundraising efforts to keep the Club, which is located on the campus of the Owen Valley School, open for local youth. The Kids Club offers afterschool homework assistance, supervised play, and healthy snacks for local, school-aged youth.
Despite overwhelming support of the program by the Owens Valley Unified School District Board of Trustees, recent cutbacks and the future of uncertainty of funding from the state to schools forced the board to discontinue its annual funding for the Kids Club. While the yearly funding was cut, the board granted a one-time payment of $4,500 to the Kids Club to keep it open for the summer, giving parents and grandparents more time to put together fundraising efforts to keep it open year-round. With concerns over the possibility of yet further reductions in the number of days schools will operate and other cutbacks, parents are increasingly more concerned about what to do with their children while they are at work and their children are not in school.
As noted by Healthy Communities' Director, Charles James, many of the youth attending the Kids Club are from single-parent homes, while others have both parents working but no one at home after the school day is over or during school holiday breaks. The Healthy Communities program at the Kids Club provides a safe, supervised setting for local youth. Activities include table games such as ping pong, air hockey, and foosball, along with board and electronic games, arts and crafts, and sports equipment to play outside. The Kids Club costs are $15,000 to $18,000 a year depending on the number of activities and programs offered, including food and maintenance supplies.
Healthy Communities, which operates the youth center, told the group that there was increased concern over its own budget as expenses, which have been well over and above the funding provided by the school district in the past, adversely affect its other programs in both Independence and Lone Pine.
"It is no secret that funding for our youth, whether for education or other youth activities, is being severely impacted by budget cuts and a sluggish economy. Healthy Communities' funding, along with many other organizations, has been greatly impacted as well," said Hickman. She went on to ask those in the meeting for their ideas and ask for volunteers to provide specific assistance to get the ball rolling.
Most of the discussion centered on the efforts of the group, calling themselves "Friends of the Kids Club", to sponsor a raffle offering a hunting rifle and other prizes, along with fundraising events to support the youth center into the future.
Specific concerns addressed were venues to be used in selling the tickets, the level of involvement and commitment of the community in Independence, and other strategies proposed to fund the Kids Club fundraising effort besides the raffle. As Hickman noted, "Healthy Communities has served Southern Inyo County for over 12 years, providing activities for youth and families, but we cannot fix all the problems faced by our communities by ourselves, we need the communities to step up and solve their own problems, but know that we are here to help them."
Carma Roper, whose daughter Naiya often attends the Kids Club, said, "The Kids Club is one of the best…and only programs we have here in Independence. It is open to local youth as well as those that visit Independence. It is a safe place to send your child when you or someone you trust cannot always be with them. Our community needs this program and we need to support it."
For further information on Healthy Communities or for ways that you can help with its efforts to provide youth programs such as the Kids Club, please call (760) 876-1011 or visit its website at www.HCSIC.org.