Kevin Green came to town with big plans to buy up four restaurants and other real estate. The would-be entrepreneur instead ended up in Mono County Jail on a fraud arrest warrant. Green made a splash in Mammoth and then went wrong. More recently, he entered a plea arrangement in Mono County Court which dropped his felony charge of defrauding to a misdemeanor.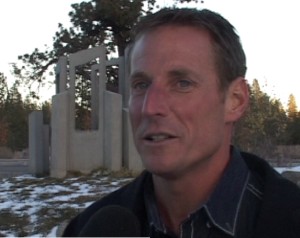 In 2006, Green wrote a bad check for $34,000 to a Mammoth man working to help him acquire several restaurants. Eventually, Green's parents paid the money. Meanwhile, Green essentially disappeared only to be arrested on a Mono County warrant when he flew back into the country from an overseas trip. He went directly to the jail in Bridgeport.
After his recent court appearance in Mammoth, Cleland Hoff talked to Green about why his life seemed to fall apart. Green says he's a changed man.
CLELAND: You first made headlines in 2006 when you were about to buy four restaurants in Mammoth. That fell through. You got into trouble. What happened to you?
GREEN: I guess all the rumors our parents told us about drugs and alcohol are true. I was just dying an alcoholic death, and it was slow and long and painful and lonely. I ended up in my house – pretty trapped. And I had to be putting poison in me 24/7. It went on for quite awhile. I couldn't return phone calls let alone respond to the lawsuits that were piling up outside my front door. They were so high, I couldn't see out my window.
CLELAND: You even failed to appear in court. What was that all about?
GREEN: I was completely paralyzed. Life just got pretty dark. The world was in black and white, and people just didn't seem good. All the aliveness and happiness that used to be in me was completely gone. I was just trying to stay alive, and I lacked the humility to ask for help and admit that I needed help.
CLELAND: How did you end up back in Mammoth and in court?
GREEN: I had a brother who got married out of the country and I was coming in from Spain with five and a half months of sobriety. There was an arrest warrant, and I ended up spending some time in jail. Homeland Security picked me up. I spent 16 or 17 days in a pretty rough jail in Atlanta. It was a very difficult experience that I'll never forget. Just when I thought I was getting out of there, a couple of sheriffs from Mono County came there. They asked me if I liked to fly, and I said sure because anything was better than that place. They put me in handcuffs with a sheriff on each side of me on two commercial airline flights. I went to Bridgeport. I'm really grateful for the whole experience. It's changed me. Something spiritual happened in there that has never left me. I have all the aliveness inside me again. The healing has taken place – by coming back here. I had to report to court and prepare for my case which was really just admitting what I did wrong. I really didn't put on much of a defense. But, the healing has taken place back here in Mammoth for me – just how kind the people have been and how accepting they've been for me. It's just been tremendous.
CLELAND: What would you like to say to the people of Mammoth who may have been hurt by your previous actions?
GREEN: First, to a lot of the people I have hurt I'm in the process of contacting them to make amends directly. That's between them and me. To the people of Mammoth I would say I was wrong. I can't believe that I sunk that low and was that unconscious and unaware of things. I just lost all awareness – that I would act like that. I love this place, and I've been coming here since I was 12 or 13-years-old. I'm 42-years-old, and it's just the finest place in the world. There's no place else I'd rather be. You, know, a guy like me – I could pick up and go somewhere else. I don't want to. My heart's here, and like I said – the healing that has taken place by being here has been unbelieveable. You know, I hurt some very fine people. My worries don't mean much. It's my actions going forward. Hopefully my actions will get me back to being part of the community again.
Green said he had plans to meet with the Mammoth Rotary Club with the intent to get involved in community projects.