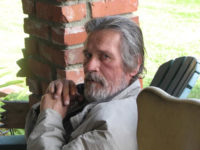 The family of Kenneth "Kenny" Suleski, aged 72, is saddened to announce that he passed away on April 26th, 2022, due to health complications. In his final days he was surrounded by those he cherished most.
Kenny was born on September 13th, 1949, to Ben and Elizabeth Suleski in Chicago, Illinois. In the 50's, the Suleski family moved to Southern California to plant their roots. Kenny developed a love for baseball and attended Leuzinger Highschool in Lawndale, Ca. He was a rebellious teen and was on his way to blaze his own path.
As an adult, he made the decision to leave the city life and moved to Keeler, Ca. That was where he developed his love for welding, construction, and mechanics. He easily made friends with the locals and had many great memories of that period in his life.
In the 80's, Kenny started work in Mammoth with Ford Wilson Co. and worked as a Pipefitter. As Mammoth and Crowley began to expand, it was his job to put in the water and sewer systems for those communities. He ended his career at the Mammoth Water district in 2015. Kenny was always known as a hard worker and dedicated to his profession for over 30 yrs. You would be hard pressed to find a co-worker, boss, or subordinate who didn't respect his knowledge and work ethic. He never really said too much, but when he spoke, you knew that you either screwed up or he was going to let you in on a trade secret. He was a person who would give the shirt off his back if you needed it, serious in his mannerisms, but also able to pull a prank or two. You could always find him with a Budweiser and a cig, and If you were a hard worker who gained his respect, he'd invite you over for a cold one. He was lovingly known to his family as the "Almighty". He loved to cook, random trips, welding and fixing vehicles.
Kenny spent his final years spoiling his grandchildren, loving on the random dogs that would befriend him, collecting tools, and enjoying the sunshine. The local restaurants became his place to go for food, and while he seemed grumpy, he easily made friends.
Kenny is predeceased by his parents. He is survived by his longtime partner of 42 years, Mary Wuester; brother Keith Suleski; Sisters Kathy Alberti, Carol (Husband Steve) Sosnowski, Kerry (Husband Randy) Thornhill; Son Ben (Wife Amy) Suleski, Daughter Shelia Suleski; Grandchildren Lane Suleski, Rikki Parent, Rachel Baron, Kaedyn Hilliard, Riley Nosala.
A "Celebration of Life" will be held on Saturday, June 4th, 2022, at 2:00 p.m. at the Keeler general store, 147 old state hwy, Keeler, Ca. It will be potluck style, so please bring a dish and a story to share.