– Press release from Mammoth Mountain Community Foundation:
Two Mammoth-based nonprofit organizations have created a new scholarship program for student-snowboarders in Mammoth.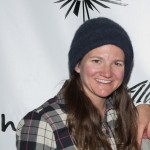 Gold medalist and Mammoth resident Kelly Clark knows what it's like to dream big in a small town. Growing up in Vermont, she had the opportunity to train as a snowboarder and attend a mountain school, which contributed to her early success in the sport.
After winning every major competition in snowboarding, Kelly started the Kelly Clark Foundation to give back and provide opportunities for young snowboarders to pursue their dreams. At the same time, the Mammoth Mountain Community Foundation has been working to grow programs that support athletics and education in Mammoth, by providing funding to Mammoth Ski and Snowboard Team programs, as well as making an annual donation to Mammoth Unified School District.
Now, the two organizations are partnering on a scholarship for student athletes on the Mammoth Snowboard Team. This award will go toward snowboard team fees and costs of schooling in Mammoth, and is open both to out-of-area athletes and local residents on the team.
"I could not be more excited about teaming up with the MMCF to make an even bigger impact among our local youth," said Clark.
Applications for Mammoth Scholar Program are now available online at kellyclarkfoundation.org and mammothfoundation.org. The first round of Mammoth Scholar awards will be made this fall by a committee of representatives from both organizations, as well as the snowboard team director.
There are some 70 athletes currently on the Mammoth Snowboard Team. Participants pay fees and competition costs that for elite athletes often exceed $10,000 per year. "We hope this scholarship encourages more student athletes in Mammoth to join the team," said MMCF Executive Director Stacy Corless.
Kelly Clark and Mammoth Mountain Community Foundations will work together to raise funds for the Mammoth Scholar program, and both organizations accept tax-deductible donations to support the scholarship fund.