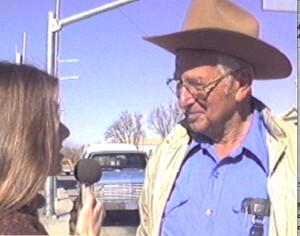 Everyone is invited to celebrate the life of Keith Bright on April 17, 2010 at 1:00 PM at the Pioneer Memorial Methodist Church, 157 North Washington Street in Independence, with burial at the Independence Cemetery. Keith passed away surrounded by family and friends on April 6, 2010 in Bishop, CA. Keith loved a party and to be surrounded by people, and his home became the place to celebrate birthdays and holidays. In honor of his love of people and expansive personality, we welcome you to convene at the American Legion Hall on Edwards Street (Highway 395) in Independence immediately following the services. Please bring a potluck dish, and your stories about Keith Bright. Public speaking was his fort, and he loved a good story, so we hope you will come with your experiences, either in writing or speech.
Keith Bright loved Independence and the Owens Valley. The Valley is like the California of his youth, unfettered and unpopulated, with a ranching tradition that stretches back to the 19th century and vast vistas with the promise of solitude, yet with the strong sense of community that mirrors the West of the past. In memory of Keith Bright, the Bright Independence Fund has been created for the purpose of enhancing and continuing those values in the greater Independence area. Donations may be directed to the Bright Independence Fund, El Dorado Bank, P.O. Box 67, Lone Pine, CA 93545.
Keith B. Bright was born on March 31, 1915 in Lemoore, California. He was a 4th generation Californian with roots in Angels Camp and the central San Joaquin Valley, the descendant of families that crossed the Nevada desert to establish ranches, hotels and work in the mines in the 1850s. His early years were spent in the hardscrabble places in the San Joaquin Valleys Westside, near Tulare Lake and Devils Den. Keith used to relate stories of riding his horse to school in 1st grade, washing dishes in a dirt-floor boarding house to help his mother, and watching one of the last Miller and Lux cattle drives in the Central Valley.
Keiths large extended family gave him opportunities to work on the Whittle Ranch at Angels Camp and the Hays Ranch in Peeples Valley, Arizona. He and his mother settled in Taft, California where his step-father, Theodore Sarge Pierce, worked for General Petroleum as a catskinner operating heavy equipment in the oil fields. During his growing-up years, large family gatherings were common, usually in the form of picnic potlucks, and Keith had many cousins and relatives that continued the network of relationships throughout his life.
School was not Keith Brights favorite activity, and he told tales about high-jinks that he and his friends engaged in, including rubbing garlic cloves on the steam radiators in Taft High School. While in high school and at Taft Junior College, he discovered theater and he acted in many plays, performing throughout California. Keith had a larger-than-life stage presence, and acting came naturally to him. His paternal aunt, Ione Bright, was a stage actress in San Francisco and New York. Keith considered attending the Pasadena Playhouse and pursuing a career as an actor following junior college, but ultimately decided to attend University of Southern California in petroleum engineering.
When World War II began, he tried to enlist many times, but was refused because he was in petroleum production, a critical industry to the war effort. Keith was married to Gretchen Roese on September 11, 1939, and they had two children, Charles Theodore (Ted) and Susan Bright, before the marriage ended in divorce. On November 8, 1946 Keith married Eleanor Jane Young, a geologist he met in the Rio Bravo oil fields, who preceded him in death in 2008. Together they had three children, Mary Anne, Nancy Jane, and Donald Keith Bright.
Keith and Jane bought the old Parker Ranch on South Fork Oak Creek near Independence in 1962, ultimately moving there in 1968. For many years, there was no telephone or television, and electricity was direct current from a small hydro-plant on the creek. The Ranch became the anchor that kept family and friends together. Gardens were grown, cattle raised, marriages celebrated, and children raised from birth there. On July 6, 2007 most of the Bright Ranch was burned in the Inyo Complex Fire, and on July 12, 2008 the landscape was transformed in a devastating debris flow, and the Ranch became a memory.
Keith was a creative problem solver with a great deal of tenacity. In 1948, he and others formed KEN Corporation to develop and market oil-based drilling muds throughout the world. In those years, the oil business was peopled by unique characters self-made men and women that formed close friendships that extended beyond the business relationships. Keith fit right into that image. He had many friends in the oil business throughout United States, and business deals were by handshake and trust. He always believed in the essential goodness of people, and because of that, was able to bring together conflicting viewpoints and get people to talk. He was a big-picture man, a natural leader, who was able to see ways to accomplish a goal, and pushed through the obstacles in the way.
Keith Bright grew increasingly concerned about the future of the oil industry and the energy supply for the United States, and became politically involved. He was not hesitant to throw open the door to a senators office and walk right in, quelling any objections by reminding the senators staff that they worked for the public. In 1982 he received the California Independent Petroleum Producers Glenn C. Ferguson Award for his efforts on behalf of the industry.
Retirement was not a word in Keiths vocabulary. The completion of a second aqueduct in 1970 and the enactment of the California Environmental Quality Act (CEQA) soon after revitalized the ongoing water conflict between Inyo County and the Los Angeles Department of Water and Power. During this time, Keith served as a Water Commissioner for Inyo County. On December 1, 1986 he was appointed to the Inyo County Board of Supervisors by Governor Deukmejian to fill the term of 4th District Supervisor Johnny Johnson, and he put his energies toward fighting the water battle. Keith clearly saw that Inyo County had to lock in protections for its water resources before the population pressures from Southern California made environmental protection unlikely. He helped craft and was a signatory of the Inyo County/LADWP Water Agreement, the stipulation and order that settled the court battle over the adequacy of the Los Angeles/Inyo Environmental Impact Report (EIR), which analyzed the effects of pumping in the Valley since 1970.
Although signed in 1991, the Agreement and EIR became effective in 1997 with approval by the 3rd District Court of Appeals. Keith Bright continued to advocate for implementation of all aspects of the EIR and Agreement, knowing that if enforced as written, the Agreement would protect the environment of the Owens Valley and benefit the people of Inyo County.
Keiths previous contacts in the State and Federal government were beneficial when lobbying on behalf of Inyo County. He was instrumental in navigating all the complex political details that enabled the transfer of land to the Park Service, and the resulting creation of the Manzanar National Historic Site. Likewise, he worked with Congress to secure $1,000,000 for the relocation of the Inyo County Road Shop from Manzanar to Independence. Keiths advocacy of the establishment of Manzanar as a National Historic Site helped bridge differing viewpoints, and he was honored in 2008 by the Manzanar Committee for his work on behalf of Manzanar.
Always active in the Republican Party, Keith tirelessly worked for the cause and became somewhat of a legend every time he sold tickets to the Republican Breakfast at Bishop Mule Days. More than one registered Democrat bought those tickets and it became a source of amusement to see how many succumbed to his persuasive sales pitch.
Because he was able to bring people together with humor and compelling rhetoric, Keith made Inyo County a better place. He left an indelible mark on the lives of his family and the community with his sense of decency and strong ethics. He was an optimist that always believed in the fundamental goodness of people, overlooking slights with the expectation of fairness and honesty. Keith Brights true legacy is the enduring gift of his values, honed in the small towns of Californias past and demonstrated throughout his life.
1