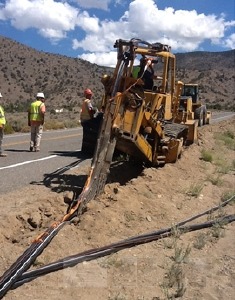 Obvious in many places along Highway 395 are construction crews, heavy equipment, large spools of conduit or Fiber Optic cable between Carson City and Barstow. It's all part of Digital 395 and Sarah Messerlian of Mono County sent out an update on the high speed internet project.
As most know, this is a 583-mile-long fiber network which roughly follows the alignment of Highway 395 as it crosses through Douglas, Mono, Inyo, and eastern Kern counties. The projects consist of a 432 strand high-capacity fiber cable that will connect roughly 250 government, educational, and medical "anchor' facilities along the route, as well as serve as a much needed 'backhaul' for telecommunication companies who distribute cellular and Internet services to subscribers throughout the area.
Messerlian said that after nearly two years of wading through a permitting and cultural review process that involved more than forty different agencies and resulted in over a hundred different issued permits, construction on Digital 395 began earlier this summer. The construction portion of the project is being headed up by Praxis Associates, who has three separate sub-contractors doing work simultaneously along the route.
In Mono County, construction began in August in downtown Bridgeport on Kingsley Street, then quickly moved west out of town and through the Bridgeport Valley. Since that time, crews have completed the segment between Bridgeport and Coleville, in addition to significant portions of the route outside of Mono County  – Barstow to Ridgecrest, being one of them. Construction recently began on the segments immediately south of Highway 203, and will begin in the areas between Bridgeport and Mammoth in coming weeks.
The crews are making significant progress each day, according to officials, though are now at the mercy of winter weather. Construction efforts are being focused on the areas that are likely to be impacted by snow first, or will be challenging to work in once things melt in the spring. Crews will continue work through the winter months, in the areas of the route that they can access.
Praxis is striving to begin connecting anchors in select areas such as Bridgeport to the network early next year. The majority of the construction on the project should be completed by spring of next year, leaving a couple months for testing and wrapping up other details before the July 31 project deadline.
As the network is "lit up", the service providers who we rely on for home and business Internet, Cable TV, and phone use will also begin to leverage the newly found bandwidth. For those of us who have Internet already, we can expect to see the quality and speed of that service improve. In portions of the County where Internet is not currently available, conversations are underway to engage providers to build new infrastructure – the ultimate goal being to connect as many people as possible within our key community areas and transportation corridors.
If you would like more information about the project, visit the official website: http://www.digital395.com or contact Nate Greenberg: [email protected]