In the far southern end of the Eastern Sierra region, lies Keeler with the looks of a town in exile at the remote southern edge of the famous Owens Dry Lake. A wide variety of housing makes up Keeler, with deserted and antique buildings interspersed with actual homes.
Then, on the far eastern edge of town – a large, modern, though temporary looking, compound. DWP and its contractors work there on the Owens Dry Lake clean-up that now employs at least 65 workers.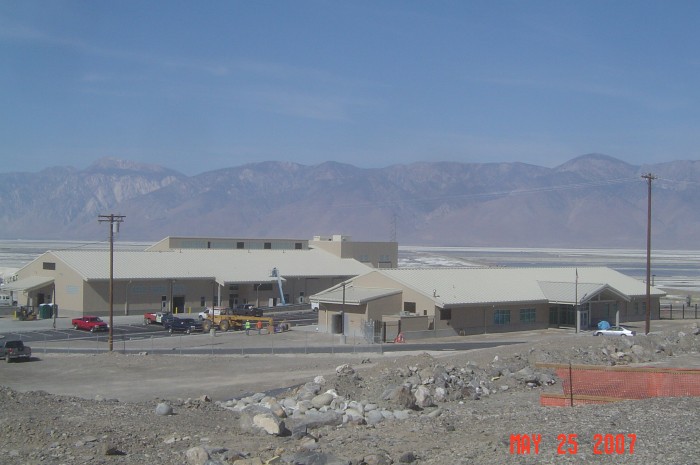 The $11 million facility includes an administrative building, space for maintenance of equipment and research. A scandal had been reported on DWP's contractor for the dry lake project – CH2M Hill. Allegations of over-billing and other irregularities forced the contractor out. A new firm, Air Sciences, is in with a number of subcontractors to maintain 200 miles of pipeline and pump stations.
(Photo of new facility at Dry Lake provided by Steve Reese.)
Sprinklers circulated and wet down the dry dust in the afternoon. This work goes on over a large expanse of the lake bed.
A remnant of attitudes toward DWP for drying up the lake and creating dust pollution remains at the edge of the lake. A surfboard naming Keeler Beach with tongue in cheek invitations to swim, surf and recreate, thanks to the Los Angeles Water Department. There may never be swimming and boating on the Owens Lake again, as there once was; but through work by the Air Pollution Control District and DWP officials, the severe dust pollution may one day vanish.