Kathryn Irene Bevins was born on January, 4th 1965 at Northern Inyo Hospital to Francisco Orville and Beverly Ann Bevins of Bishop. Kathy passed away peacefully in Phoenix Az on May 7th 2017. She was 52 years old.
She was raised in Round Valley until she moved to Bishop with her mom and older sister Mary Frances and youngest brother James Eldon. Later on she moved to phoenix near Mary Frances until her passing.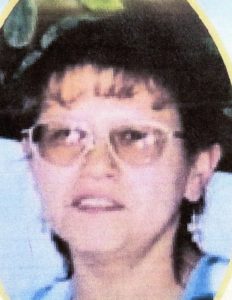 Kathy attended Bishop Union High in 1992 she graduated from Bakersfield adult school to get her high school diploma.
Kathy was avid in crocheting and did it with love and from the heart. She made beautiful doilies, afghans and throws for her relatives and friends for Christmas each year and even for their birthdays.
Kathryn worked for many years as a security officer in Bakersfield and phoenix.
She is survived by her sister Mary Frances Nisbeth (Barney Perez) of Goodyear Az. Her brother James Bevins (Jason Baciak-Metz) of Bishop and nephew Craig Nisbeth of Bishop. Her aunt and uncle Phyllis and Delvin Kane of bishop. Numerous cousins, and great cousins. That loved her and will miss her very much.
She is preceded in death by her parents, grandparents, aunts, uncles, cousin and nephew. Memorial services for Kathryn Irene Bevins on June 3rd 2017 at The House of Mercy Church at 393 So Paha Lane in Bishop ca. Gretchen Hess officiating, burial will be at east line street cemetery and a luncheon will follow at the North Barlow Lane Gymnasium.