Katherine Keesler passed away on April 14, very peacefully, at Northern Inyo Hospital with her son and daughter-in-law by her side. Per her wishes there won't be any services.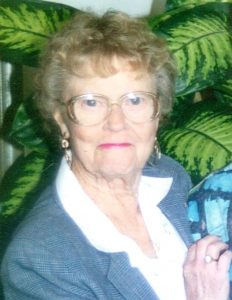 Katherine was born April 23, 1925, to Elisabeth and Jimmy Robertson. She married Harold Keesler in 1942 and they had two sons, Marvin and Steven. After years of camping at Rock Creek, in 1959 they moved to Bishop; after living in the San Fernando Valley, the move was a blessing for all.
After Harold passed, Katherine met Bill Utter and enjoyed their relationship until his passing. She has since lived alone. Katherine worked as a sales clerk for various retailers in Reno and Bishop. The last place she worked was at Lyon's Jewelry, which was her favorite.
Katherine is survived by her son Marvin and daughter-in-law Kathie; granddaughter and husband Melissa and Rob Motley; grandson and wife Christian and Renelle Keesler; great grandson Christopher Hoodman and wife Chelsea; great granddaughters Madison Keesler and Grace and Emily Motley; and good friend Dottie Bradley.
She was preceded in death by so many, most noted, husband Harold, son Steven and life partner Bill Utter.
"She was born and she died." Between that she lived, loved and enjoyed every day. She lived with dignity and she died with dignity. It doesn't get better than that.
Love you, Mom.