At last report, a juvenile suspect was in custody on suspicion of starting a fire that destroyed three out-buildings and a non-operational vehicle Wednesday in Bishop.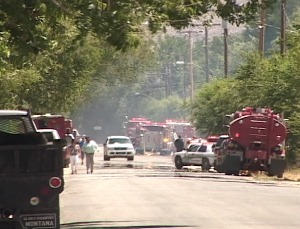 The fire began about 2 p.m. on the west side of South Pa Ha Lane, said Chief Ray Seguine of the Bishop Volunteer Fire Department. The initial report was a brush fire, but three outbuildings – two metal and one wood – were full engulfed when firefighters arrived on scene, Seguine said.
A large cottonwood tree and two other vehicles were damaged, according to Chief Seguine. A loader was used to down the tree. About one-half acre of vegetation was burned.
Firefighters quickly knocked down the flames, but a lengthy mop-up was necessary, Seguine said. About 20 firefighters, eight units and CalFire personnel were on scene, some until about 5:30 p.m. CHP and Inyo County Sheriff officers provided traffic control.
Damage was estimated to be as high as $2,000, Seguine said.  No information on the suspect was immediately available.