Press Release/UCSD:
Justin James, 36, joined the University of California San Diego baseball staff as an assistant coach in January of 2017. The 2017 season is his first in the Triton dugout.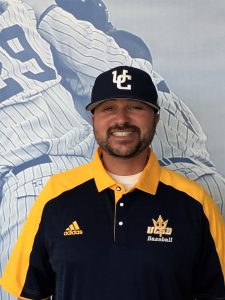 Justin James, son of Charles and Sherrie James of Big Pine, makes the short trip over from his alma mater, Point Loma Nazarene University, and takes over as UC San Diego's pitching coach. He served in that capacity at Point Loma for the past two seasons, transforming the Sea Lions' staff into one of the best in the Pacific West Conference (PacWest) and NCAA Division II. James also aided in recruiting, camp coordination and opponent scouting.
Under James' direction, Point Loma posted a 3.15 earned run average in 2016, good for No. 10 nationally and second-best in the PacWest and West Region. The Sea Lions also ranked among the country's top 10 in three other pitching categories, finishing second in walks allowed per nine innings (2.16), eighth in strikeout-to-walk ratio (3.23) and ninth in WHIP (1.20). Point Loma's ERA dropped in successive years, going from 4.17 in 2014 to 3.83 in 2015.
James returned to Point Loma for the 2010 season and helped the Sea Lions reach the National Association of Intercollegiate Athletics (NAIA) World Series, where they placed third. He was an assistant at his alma mater for seven seasons in all, and has been a coach for 11 years, nine of them at the collegiate level.
James spent the 2008 and 2009 campaigns at New Mexico Highlands University in Las Vegas, N.M., with the Cowboys winning 70 games while reaching the Rocky Mountain Athletic Conference Tournament championship game in both years and the NCAA Division II Central Regional in 2009. Prior to that appointment, James was the pitching coach at Claremont High School for two seasons.
Also this past summer, James worked for USA Baseball and was in charge of the 11U Southwest squad during the National Team Identification Series (NTIS) in Cary, N.C.
A 2004 graduate of PLNU with a degree in history, James earned a master's from NMHU's Department of Exercise and Sport Sciences in human performance and sport with an emphasis in sport administration in 2009. He played two years at Citrus College in Glendora before moving on to Point Loma and leading the Sea Lions to postseason berths in 2002 and 2003 as a pitcher.
James and his wife, Lindsey, and two young daughters, Kinley and Ellie, reside in Serra Mesa.