Justin Gregory Brown Harris passed away as he was surrounded by his family on July 22, 2016, in Orange, CA. He was 34 years old.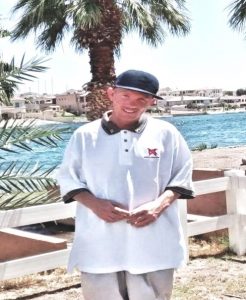 Justin was born in Bishop, CA on January 10, 1982 to Wendy Harris and Greg Brown. Growing up in the Bishop and Big Pine area, Justin would spend his youth skateboarding, exploring the mountains with his family, hanging out with his friends, and catching and trying to domesticate everything from small rabbits to snakes.
Justin is survived by his dad Joe Harris of Benton, CA; his grandmother Marilyn Booth of Inyokern, CA; grandmother Eleanor Harris of Bishop, CA; grandmother Shirley French of Bishop; grandfather Cy Reed of Pollock Pines, CA; sister and brother-in-law Jaime and Bobby Moore of Bishop; brother and sister-in-law Joe and Shari Harris of Big Pine and brother Charley Brown of June Lake. Justin also leaves behind many aunts, uncles, nieces, nephews, cousins, and his extended family The Torres and Vaulet Families, who meant everything to him.
Waiting to greet him in eternity are his mom Wendy Harris; father Greg Brown; grandfather Fred Harris; grandfather Dell Heter; grandfather Charles Brown; grandmother Carole Reed; and cousins Rick Barlow and April Smith.
As an adult Justin became a welder and worked as a pipe fitter. It was a trade he would grow to love, and it took him across the states to places like New Orleans, Seattle and New Mexico, but he worked mostly around California. He loved to weld and was very proud of his accomplished skill.
He spent much of his free time learning new techniques, and as a result held many certifications. Justin had a passion for art and loved to draw. He was very talented with pencil, charcoal and colored pencils, and gave many drawings to his friends and family to enjoy.
He will be deeply missed by his friends, family, and all who knew him.
Celebration of Life Services for Justin will be held on August 6, 2016 at the Bishop Elks Lodge at 1:00 pm with a potluck luncheon to follow at the same location.