During the winter months Gigi de Jong is an artists' model for a group of Eastern Sierra artists who produce wonderful illustrations and paintings from the poses she does in these life drawing sessions.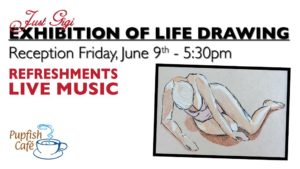 Announcement:

An Exhibition of Life Drawings and Paintings of artists' model – Just Gigi

Join local artists and model for a reception on Friday, June 9th from

5:30 – 7:30pm

at Pupfish Café.

The café is located at 124 S Main St, behind Spellbinder Books. Parking is at the rear of the building – entrance on E. Line St.

There will be free refreshments, including samples of the famous Pupfish Café waffle, and live music.

The exhibit will be up from June 4th and will run through July.
Press release