Small-town talk led to a conviction for jury tampering in Inyo County.
Last week, Christine Watterson was sentenced to 90 days in the county jail for jury tampering in a case that involved her son, Mitchell David.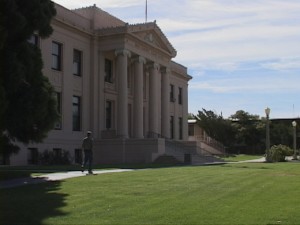 In September, Big Pine residents James Williams and Mitchell David went to trial on assault charges after the two were alleged to have assaulted another Big Pine resident, breaking the mans leg. Williams and David were convicted and sent to prison, but before the trial started word got out to the court that Mitchell Davids mother may have tampered with a jury candidate.
It may have started with a few words from a concerned parent, but attempting to influence a juror is a crime. Assistant District Attorney Mark Johnson reports that Christine Watterson is alleged to have called a man who had been summoned for jury duty and asked the potential juror to go easy on her son because he didnt do it.
With one small town piece of talk to cause the trouble, more small town talk brought the news to the attention of the court, and Johnson says the entire jury panel had to be dismissed. Watterson pleaded no contest to the charge of jury tampering in January. Last week she was sentenced to 90 days in the county jail, but due to health reasons, she will perform 720 hours of community service instead, Johnson reports.