As of June 8 the Town of Mammoth Lakes' bond rating fell to junk status. The implications of this came to light at the June 24 Council meeting.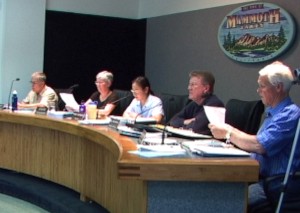 Town Manager Rob Clark asked the Town Council to approve an internal loan from the Town's General Fund to cover the principal and interest costs of maturing 2008 Notes as well as new 2009 Notes that have been paying for the costs of remodeling the airport terminal last year in order to get commercial air service to town.
A temporary loan from the General Fund is needed to pay off the 2008 Notes pending issuance of the 2009 Notes. As we reported, Stand and Poors downgraded Mammoth's bond rating because of the Hot Creek lawsuit and the threat of that $30 million judgment against the Town. A decision on the Town's appeal of this case should be out in a year.
The Council had already approved a resolution in May stating that they wanted to continue with this borrowing program in order to continue to finance the terminal and therefore air service. They authorized Clark to loan an amount not to exceed $1,985,000.00 from the General Fund to the Airport Enterprise Fund for the purpose of providing interim financing for the terminal project and to provide for the payment of the 2008 Notes.
The 2008 Notes mature on June 30, 2009 and the new 2009 Notes begin on July 1, 2009.