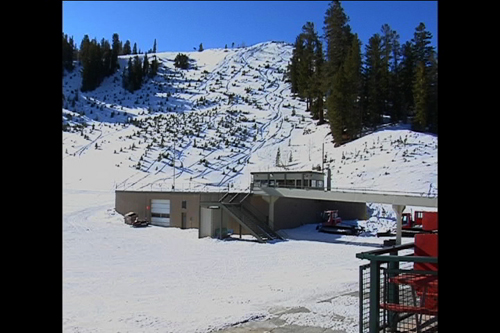 At a meeting of the June Lake Community Advisory Committee, Mammoth Mountain Ski Area officials said what the town wanted to hear – they will keep June Mountain Ski Area open in spite of the miserably low snowfall.
Mammoth Mountain Chief Operating Officer Greg Dallas and Chief Administrative Officer Ron Cohen personally went to the meeting with the news. This, in the face of some pretty rough days at June Mountain. One day saw no customers at all.
Supervisor Tim Alpers said the animation and kids programs that Mammoth Mountain carried out has made a difference. Alpers said Mono County will try to match Mammoth Mountain's efforts with community development. He said it looks like a grant may be available toward plans for the June Lake downtown area.
Alpers said the idea would be to tie everything together – downtown, the Rodeo Grounds, and the Ski Area into one corridor. Ed Roski bought the Rodeo Grounds last year but has not announced any development plans so far. He had said earlier that he wanted to do something to please the community, County and stakeholders.
Meanwhile, the Mono Local Transportation Commission had earlier asked Yosemite about an early opening of Tioga Pass considering the severe lack of snow. Even before the latest snowfall, Park Superintendent Don Neubacher indicated snow conditions were not conducive to opening Tioga Road yet. After that, more snow fell. Officials will keep an eye on the pass road for the potential of an early opening.