Forest Service Update on Status of June Mtn. Ski Area (Press Release)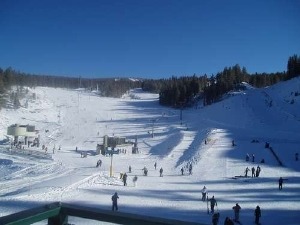 BISHOP, Calif., Dec. 20, 2012 – With new snow on the ground and plenty more on the way, residents and visitors alike are looking forward to a variety of winter recreation opportunities available on the Inyo National Forest.  At this time, the  Forest Service would like to take the opportunity to clarify the current status of June Mountain Ski Area.
The Forest Service has received from Mammoth Mountain Ski Area (MMSA), a Draft Operation and Maintenance Plan for the 2012-2013 winter season at June Mountain.  The plan details MMSA's proposal for how they would manage the permitted area and their facilities for this season.  At this time the Forest Service has not yet accepted the Draft Plan. The plan is currently being reviewed  and evaluated for its sufficiency by the Forest Service and legal counsel to the agency.   The Forest Service has had several discussions with MMSA regarding questions and concerns with some elements of the plan.  MMSA has agreed to make several changes that have been requested.
At this time, for public safety, the national forest land within the June Mountain Ski Area permit boundaries is closed to public access.  According to District Ranger Jon Regelbrugge, "The Forest Service fully recognizes the public interest in accessing June Mountain and we are in the process of  analyzing several complex safety issues related to limited avalanche control and other factors.  Prior to accepting MMSA's Operation and Maintenance Plan, we believe public safety is best served by prohibiting access until a final determination is made regarding whether public safety can be appropriately managed given the situation."
Regelbrugge went on to add that the Forest Service is very close to issuing a temporary permit to the Double Eagle Resort for grooming of Nordic ski trails in the June Lake Loop.  Also, depending on snow conditions, the Inyo National Forest over-snow-vehicle (snowmobile) trail system may be accessed from the June Lake Junction area.  Grooming of the trail system started on Tuesday, December 18.
For more information about winter recreation opportunities on the Inyo National Forest please contact the Mammoth Welcome Center at 760-924-5500.
# # #