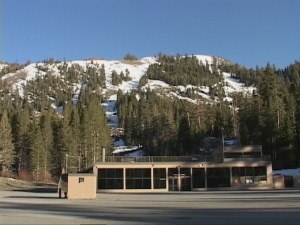 What a difference a year has made. Last year, Mammoth Mountain CEO Rusty Gregory announced closure of June Mountain for the season. Residents of June Lake were hit hard. Now, word is out that June Mountain will re-open December 14th, weather permitting.
According to a press release from Mammoth Mountain, June will offer free skiing and riding for children 12 and under, every day, all season long. June Mountain will be open seven days per week. The press release says that the free entry for kids comes "as the resort focuses on the beginner and intermediate experience." The release says the resort will also offer first time beginner packages for substantial discounts. The resort press release says that Mammoth Mountain Pass holders will ski June for free.
June Mountain General Manager Carl Williams is quoted as saying that personally and on behalf of the community, "We're really excited to see those lifts turn again." Williams called June Mountain a great place to learn, be comfortable and have fun.
According to the news release, upgrades to Chair 1 and snow making infrastructure are still in the planning phases with information available after the opening.
It was last July that CEO Rusty Gregory announced closure of June Mountain based on finances. He said June was losing $1.5 million per year. Gregory said the Mountain's lenders pushed for a better financial picture. Since that time, residents of June Lake and others have fought hard to get June Mountain back, including attempts to discourage Mammoth Mountain's land trade until guarantees for June Mountain came forward.
In April, Gregory did go public with his plans at a Mono Supervisors' meeting. He also said his new management team would focus on June Mountain along with Mammoth.