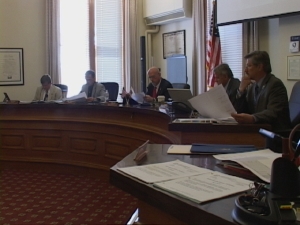 At the Mono Supervisors meeting today, officials expected to consider a letter from a member of the Committee for a Viable June Mountain.
Alice Suszynski of that group sent the Board a letter with questions of concern about the re-opening of June Mountain. Suszynski told the Board that the Committee spoke with Congressman Paul Cook when he was in Bishop in September. She said Cook agreed to keep HR 1241 on hold until the concerns of the June Lake community are addressed. That bill would help further Mammoth Mountain's land trade. Some in June Lake have used that leverage to try to get June Mountain open and improved.
Suszynski's letter also asks if Supervisor Fred Stump has received a list of Mammoth Mountain's capital improvement plans for June Mountain. The letter asks if monthly meetings are taking place with Mammoth Mountain.
Suszynski told the Board that June Mountain Manager Carl Williams said at a recent Citizens Advisory Committee meeting that Mammoth Mountain "barely had enough money to open June Mountain and that they currently had no budget for advertising."
Finally, the citizen wanted to know if Supervisor Tim Alpers has drafted a letter to Mammoth on the status of plans for June Mountain. The Ski Area had announced that June Mountain would re-open for the season on December 14th, weather permitting.
In early summer, Mammoth Mountain CEO Rusty Gregory introduced his new management team and said they would have the power to market and help improve June Mountain.