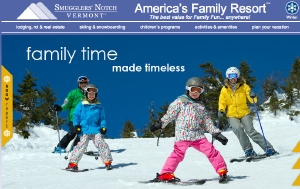 From Smuggler's Notch in Vermont to Waterville Valley Resort in New Hampshire, a group of more than a dozen Mono County and Mammoth Mountain officials and June Lake businessmen continue to visit small ski areas and study their successes to help assure the future of June Mountain.
Mono Supervisor Larry Johnston, on a speaker phone with Economic Development officials Alicia Vennos and Jeff Simpson, talked to us from Vermont about the ambitious trip. They described Smuggler's Notch Ski Area as sort of similar to June Mountain. Smugglers, they said, is very family oriented. The Mono group has met with presidents and managers of small ski areas, toured their facilities, checked out their amenities and lifts.
Supervisor Johnston said the Vermont resorts all have snow-making, which June Mountain does not. Said Johnston, "We're learning a lot about what kind of operations here might fit for June Mountain." Supervisor Johnston said for him it's a "question of what we want June Mountain to be. We haven't zeroed in on that yet." He said he feels a lot of people like the family-oriented model. He called Smuggler's pretty remarkable and very family oriented. Said Johnston, "They have easy access, good instruction and good access to child care."
Bromley Resort nearby said summer months are the most profitable. They also cater to kids and families. In the summer, Bromley features water slides, zip lines, and trampolines. Supervisor Johnston said eighteen towns in the area have joined in a Chamber of Commerce which hosts lots of regional events for winter and summer. He likes the regional perspective.
The group headed to Waterville Valley Resort in New Hampshire Wednesday with plans to go to Okemo Mountain Resort back in Vermont. Supervisor Johnston said when the trip is over, all parties will come together with some concrete ideas to run by the community of June Lake and Mammoth Mountain. Mono County Tourism's Jeff Simpson said an unexpected benefit of the trip has been the the chance for a meaningful and open dialogue that has developed between June Lake and Mammoth Mountain.