Press release
JUNE LAKE, Calif. – The June Lake Winter Festival celebrates the magical winter season in the California's beautiful Eastern Sierra, making for a can't-miss event for snow lovers.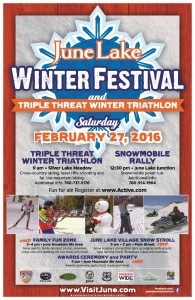 The fun-filled festival returns to June Lake Feb. 27 with exciting events for the whole family, from a winter triathlon to a snowmobile poker rally and snow sculpting. With lots of snow on the ground and more in the forecast, it'll be an action-packed celebration of June Lake's winter wonderland.
"June Lake is such an incredible place in the winter," said Ralph Lockhart of the Double Eagle Resort & Spa. "We are grateful for the bounty of snow we've received this year. It really sets the scene for the winter festival and gives us a reason to celebrate."
A winter triathlon combines Nordic skiing, laser rifle shooting and a fat bike segment on Saturday, Feb. 27, with prizes for winners in a wide range of divisions.
Snowmobilers won't want to miss the snowmobile rally – a poker rally where contestants follow a course between June Lake and Mammoth Lakes with stations along the way to draw cards and assemble a poker hand. Awards for best hand, worst hand and more will be handed out at the finish.
A snow sculpture contest is perfect for those with more artistic aspirations and provides great photo opportunities for visitors who stroll along Main Street through quaint village of June Lake.
The family fun zone at June Mountain serves up food, festivities, music, kids' games and sledding so there is plenty for all to enjoy.
To find out more, go to VisitJune.com or facebook.com/junelakewinterfestival.
###
About Mono County:  Located approximately 315 miles north of Los Angeles, and 280 miles east of San Francisco, Mono County accesses the east entrance to Yosemite National Park and beckons visitors in all seasons.  Whether taking advantage of convenient direct flights on Alaska or United Airlines from Los Angeles International Airport (LAX), San Diego (SAN), San Francisco (SFO) and Denver (DEN) to Mammoth Yosemite Airport (MMH) or arriving by car on the all-weather US Hwy. 395, the Eastern Sierra's vast playground is an easily reached destination.  US Hwy. 395, which traverses Mono County from north to south, is a State Designated Scenic Byway offering motorists tremendous vistas right from the steering wheel and countless side-roads, hiking trails, lakes, and roadside villages to explore.  For more information or to request guides, visit MonoCounty.org or call 800-845-7922.