With a standing room only crowd in two rooms of the June Lake Community Center Tuesday night, Mammoth Mountain CEO Rusty Gregory faced off with a sometimes hostile and tearful crowd as they all talked for more than three hours about the closure of June Mountain. The final word – all stakeholders will try to come up with a plan in the next two weeks to try to open June next winter. Guarantees for that outcome still remain slim. Mammoth Mountain will have to deal with the Forest Service on the June Mountain permit.
Gigi Van der Riet covered the meeting for Sierra Wave Media. She reported that some 200 people crowded into the main room of the community center with overflow in an adjoining room that offered speakers and audio of the meeting which was chaired by the June Lake Citizens Advisory Committee and the Mono Supervisors.
Gregory stood up to say he was there to let people know what is happening, face the community and move forward. The citizen response started with a teacher and students who sold lemonade to save June Mountain. They handed Gregory a check for $134. Then the mood turned more angry and emotional. People stood up to ask for cheaper lift tickets, more investment in improvements at June Mountain and better marketing. Others spoke of personal suffering with the closure of the town's main attraction.
To questions of why he closed down June Mountain so suddenly and without notice, Gregory said the banks that hold Mammoth Mountain loans were calling on the loan covenants which require a certain revenue and financial condition of the company. Gregory said Mammoth is paying the bank but that revenue which is usually $45 million a year had dropped to $25 million this season. The terms, he explained, require Mammoth to remain financially viable. The situation, he said, required major operational cuts.
Gregory had earlier stated that June has lost $1.5 million per year for the last six or so years. Gregory said, "We got one week's notice ourselves." He said he went public at once with the news.
Many pushed Gregory to sell June Mountain. He said he would not stand in the way but that no one would invest in a losing venture. He said he has received no offers but did say
he would consider an offer.
Inyo National Forest Supervisor Ed Armenta stood up to report that while the Forest Service sees Mammoth Mountain's position, there is an obligation to run June Mountain as a facility under the Forest permit. He said that the Forest Service will issue a letter of non-compliance to Mammoth. The crowd broke out in applause. Armenta said the Forest Service also can't force Mammoth to run a failing business.
Gregory made it clear that the town of June Lake needs 1,000 beds to accommodate more visitors to the Mountain. He repeatedly asked for the community vision. Citizens said they didn't want a high-end, glitzy resort, but without more amenities would the Mountain succeed?
The CEO brought up another current issue – air service subsidies. He pushed the Mono Supervisors to contribute $100,000 for air service as part of the sustainable future picture for both Mammoth and June. He said, "Get off your wallets and put some money into air service." A citizen shouted out, "How dare you speak to them like that." Mono Supervisors said they have many other issues constituents want before air service. That was during a very tense start of the meeting.
To the idea of lowering the price of lift tickets, Gregory said that would mean the need to push hard for more skiers to make up for the loss of revenue. The community continued to push hard for opening June Mountain this coming winter. Gregory said he saw their point but would have to have a good,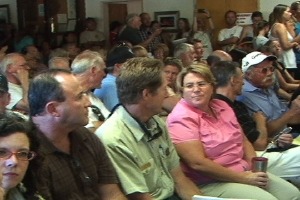 workable plan to show the bank.
Connie Black, owner of Double Eagle Resort, supported coming up with a viable plan in the next two weeks with meetings of major stakeholders to hash out a new idea.
Tim Alpers, newly elected County Supervisor for June Lake, told Gregory that he had done something no one else could do – galvanize the community. But, he said, "We still need a result."
A Native American woman suggested Mammoth Mountain partner with one of the tribes and put a casino in June Lake. Some at the meeting described the more than 3-hour dynamic as a rubber band – Gregory would pull people in and they would pull back. Some asked Gregory why he couldn't put people before profit. He said that's what he's been doing, but now he has to think of profit to save the whole business.