June Lake Snowmobile Rally Revs Up Mar. 8-9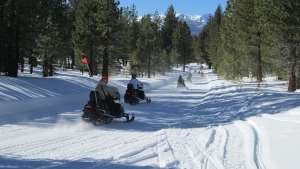 JUNE LAKE, Calif., (Feb. 27, 2013) – Winter is still alive and roaring in California's Eastern Sierra March 8-9, when the mountains make way for the June Lake Snowmobile Rally.
The main event is the Snowmobile Poker Run Saturday, happening on Saturday, March 9; however the weekend kicks off with Friday's welcome party with live music, dinner specials, and poker run registration.
The Snowmobile Poker Run is comprised of a 15-mile course, from June Lake Junction to Bald Mountain Scenic Look-out and begins Saturday, March 9 (open start). There will be a $500 grand prize for best hand. Prizes for bogey will be determined by the winning cards for best hand and are to be announced by judges at random.  Bad beat (worst hand) prizes will also be awarded. Registration is just $35 and includes a barbeque lunch. An awards party follows at 6 p.m. at the Sierra Inn with live music from The Core Shots as well as Hip Hop and Dance DJ Sensation Duck Tape.
Those wanting to ride, but not wanting to take part in the poker run, can take a snowmobile tour to Bald Mountain at 9:30 a.m. or 1 p.m. DJ's tour costs includes a guide and a machine; poker rally fee is separate. Advance reservations for DJ's tour are recommended by booking directly at 800-709-4501 or online at
www.snowmobilemammoth.com. For fun at a slower pace, there's also the June Lake Village Poker Stroll from 9 a.m. to 4 p.m. The stroll is free, and participants need only sign up at the information booth across the street from the Sierra Inn.
The intimate mountain village of June Lake is located in the Eastern Sierra approximately 310 miles from Los Angeles. From the San Francisco Bay Area, June Lake is about 360 miles on Highways 80 and 50 to US 395 in the winter. Nestled below towering granite mountain peaks and situated along the well-maintained June Lake Loop/Highway 158, June Lake is well deserving of its nickname, the Switzerland of California.
Endless winter activities in this peaceful, pristine retreat include skiing and snowboarding at nearby Mammoth Mountain (free shuttle bus from June to the slopes at Mammoth on weekends through March 24), snowmobiling, cross-country skiing, snowshoeing, and good old-fashioned fun in the snow like sledding or building snowmen. Just 20 minutes north of Mammoth Lakes, June Lake's numerous lodging properties, restaurants, shops, and four gorgeous lakes, coupled with majestic alpine scenery, create a magical winter retreat and, quite simply, a deeper mountain experience. For more information and for a free June Lake Visitor Guide and Map, go to www.VisitJune.com, Facebook.com/JuneLakeLoop, or call 800-845-7922.