When the Mono Supervisors meet Tuesday, they will convene in Mammoth Lakes on the third floor of the Sierra Center Mall.
The Board will deal with a Mammoth Lakes issue. The Town Council decided to ask the Supervisors if Mono County would contribute some funding to support the Fourth of July celebration and fireworks show at Crowley Lake.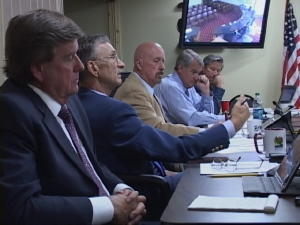 The Town has asked for $5,000 from Mono County, and the Town will spend $5,000 for Pops in the Park over the holiday. The letter from Mayor Rick Wood says Mammoth has reduced its financial support of the July 4th events due to "financial limitations." The letter says the Chamber, businesses and individuals will provide most of the funding. The Town ask for the funding and any in-kind support the County can offer.
The Board will also consider increasing the limit on a contract with Triad-Holmes Associates for engineering and survey work for the June Lake Streets project. The proposal is to amend the contract limit from $183,000 to $250,000 over the next three years and to eliminate the annual dollar amount. Payments will come from the State or other sources and not the County General Fund. The projects in June Lake deal with road rehabilitation.
And, at the end of the agenda a Workshop on a Resource Efficiency Plan and County Energy Efforts. Wendy Sugimura will conduct the workshop to review plans and targets to reduce greenhouse gas emissions. A grant covers the costs on this one.