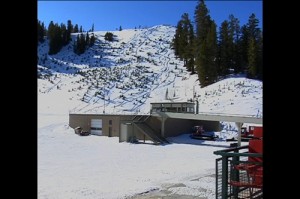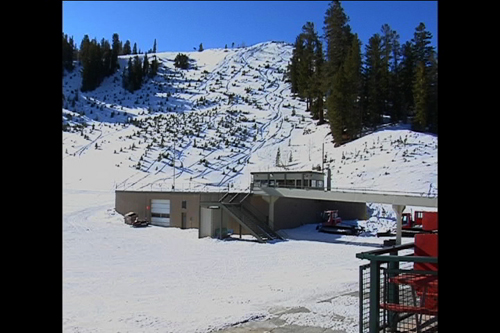 Citizens of June Lake, devastated by the closure of June Mountain last summer, have grabbed for what might seem like their only piece of leverage – Mammoth Mountain's land trade at the Main Lodge, in the works for a number of years. Residents have sent strong letters to the Forest Service that essentially call for opening June Mountain as a kind of condition for the land trade.
According to Mono County officials, Gregory has asked the Board of Supervisors to write a letter of support for the land trade. The strong points of view over these issues will likely collide when Gregory's request goes to the Supervisors March 5th. The Ski Area CEO had said publicly he plans to re-open June Mountain next winter. The Forest Service had given Gregory some time on June Mountain but expect him to operate the ski area which is on a Forest Service permit.
As they raise the land trade issue, June Lake people have also hammered on the need to upgrade June Mountain – better infrastructure, a Chair One and snow-making equipment. Asked for his comment on these issues, Mono Supervisor Tim Alpers said he is aware of the letters from June Lake to the Forest Service. He has been copied on many of them.
Alpers said Mono County is concerned about a "healthy, sustainable June Lake. We want it to be successful and not one thing at the expense of another," he said. Alpers said he sees June Mountain as "a complement to Mammoth – family-oriented, low-keyed and a feeder to Mammoth Mountain." He said from a County Supervisor's point of view, June Mountain generates revenue for services. Said Alpers, "I'm interested in jobs and sustainable communities." He said the facilities involved are on public land, and the Forest Service are recreation stewards. Said Alpers, "They're the key."
Meanwhile, a group of June Lake and Mammoth Mountain officials will head to Vermont over the weekend. They plan to visit several small ski areas to get ideas for June Mountain. On the trip – Supervisors Tim Alpers and Larry Johnston, Economic Development officials – Alicia Vennos and Jeff Simpson. From Mammoth Mountain – Carl Williams, Ron Cohen, Jim Smith and Julie Brown. From June Lake – Ralph Lockhart of Double Eagle, Rick McCoy of Boulder Lodge and others.