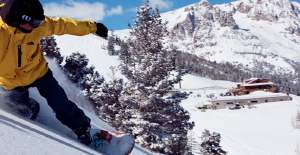 For June Lake, the past year brought home brutal realities with the closure of June Mountain. But, today, June Mountain is back, and skiing will resume with plans for more marketing, more good deals and more facilities ahead.
It was the summer of 2012 when Mammoth Mountain CEO Rusty Gregory announced that June Mountain would close immediately. He later explained that company financial issues related to loans and cash flow demanded serious cutbacks. At that point, Gregory said June Mountain was losing $1.5 million per year.
Since then, June Lake residents, Mono County officials and Ski Area officials have worked on ways to bring June back. They latched onto a better image of a family-friendly ski area with kids 12 and under skiing and riding for free all season long. Ski Area officials said June Mountain would operate seven days per week and will offer first time beginner packages for substantial discounts. The Mammoth Mountain Pass Holders will ski June for free.
CEO Gregory had also stated publicly that his new management team would focus on June Mountain along with Mammoth. For opening day, June Mountain planned an 8:30am opening day ceremony on Chair 2, an 11am toast with June Mountain General Manager Carl Williams and an 11:30 bonfire lighting.
Snowfall so far this year has remained slim but enough natural snow fell to open June Mountain. Next year, CEO Gregory said plans include snowmaking equipment and upgrades to Chair 1.